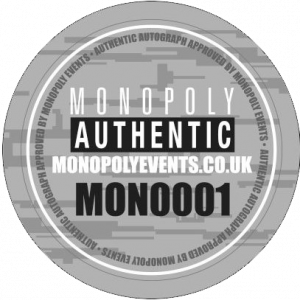 Monopoly Events Three Piece Authentication Service
At Monopoly Events we realise the importance of authenticating the signed items that you buy at our events, that you send in to us to get signed, and that you buy from our online store. This enhances the value of the product, and is a record of the signing taking place. With the market being littered with fake sellers and items, there is no better peace of mind you can get that an autograph is authentic, than to buy from Europe's industry leaders in the market. For anybody buying Monopoly Events merchandise from our official www.actionforcetoys.com store, we provide our COA on all our autographed items as standard.
All of our merchandise is certified in-house and each autographed item receives our three-piece authentication. If your item has the Monopoly Events COA you can buy in confidence knowing this was done first hand by Monopoly Events at our own show, and is a legitimate and genuine signed item, with proof pictures in almost every case. The guests appearance at the show can easily be verified by an online search of the event and guest, assuring you that you are buying a genuine item, from one of the world's most reputable companies, who book celebrities into their shows on a weekly basis.
Please enter the Monopoly Events Certification/Serial Number in the search bar below.
If your item is not registered on the online portal please email authentication@monopolyevents.co.uk to register. Please include an image of the signed item and the holographic sticker
We offer a three stage authentication service which consists of the following:
If you attend our event you can buy a holographic sticker at the signing table which is witnessed by our staff, and is applied immediately in a location of your choice, on your signed item. The stickers are uniquely numbered and impossible to forge. You will also receive a COA certificate.
The serial number on the certificate corresponds to the number on the holographic sticker. You then register the item on our database by emailing authentication@monopolyevents.co.uk. Your item will be registered on our online portal here:- https://monopoly-authenticity-checker.com
We are also happy for you to take pictures of the guest signing your item as long as the guest is also okay for you to do so.
For further authentication buy a programme on the day to go with your signed item. Purchasing our three-piece authentication, and having the programme from the event that you attended, is further proof the item is real and authentic. You can also keep your event ticket as extra proof of attendance. Whilst we know that most of you intend to keep your memorabilia, if you ever decide to sell it on this will prove beyond all reasonable doubt that the item is genuine, and being registered on our online portal will increase the value of your item.
If you use our official send in service our three-piece authentication is an additional cost of £10 per autographed item. Proof pictures will be obtained where possible.
Three Piece Authentication
Holographic Sticker (with serial number which matches the COA)
COA (with serial number which matches the holographic sticker)
Online Registration (Your item will be registered on our online portal. Please note it can take a few days to appear online after being purchased)
For extra authentication buy a programme from the event it was obtained from, or if you purchase from our online store we will provide a programme FOC where we have them available, but this is not guaranteed.
We offer a money back guarantee that our items are authentic.
If you have purchased a Monopoly Events COA, and you want to add more signatures to it from guests appearing at one of our events, we can do this for you under the same certificate.
We will ask you to provide firstly proof that you have attended the event (entry ticket and autograph ticket/s) then images of the signatures on the item. We will check these and vet them, then add to the online database under the same certificate.
The cost of doing this is £5 to cover the admin involved, and you can add as many signatures as you want for £5 each time you email in to add.
The email to use is authentication@monopolyevents.co.uk