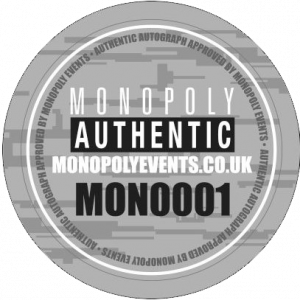 Monopoly Authenticity Checker
When you obtain a signed item from one of our events, store or from one of our private signings, and purchase Monopoly Events authentication, you can check that it is an authentic Monopoly Events item witnessed by one of our team, by using the authenticity checker below. Simply type the reference code of your item to check its authenticity.
Proof pictures from our private signings are uploaded onto the Monopoly Events page and can be viewed here:- https://www.facebook.com/monopolyevents/photos
Please enter the Monopoly Events Certification/Serial Number in the search bar below.
If your item is not registered on the online portal please email authentication@monopolyevents.co.uk to register. Please include an image of the signed item and the holographic sticker
If you have purchased a Monopoly Events COA, and you want to add more signatures to it from guests appearing at one of our events, we can do this for you under the same certificate.
We will ask you to provide firstly proof that you have attended the event (entry ticket and autograph ticket/s) then images of the signatures on the item. We will check these and vet them, then add to the online database under the same certificate.
The cost of doing this is £5 to cover the admin involved, and you can add as many signatures as you want for £5 each time you email in to add.
The email to use is authentication@monopolyevents.co.uk